Pittsburgh Mobile Shredding
Pittsburgh Shredding Service's contractors can send mobile shredding trucks to your Pennsylvania location. You get the convenience of shredding at your curbside. If you would like to witness the destruction of your sensitive materials, you may follow the security professionals through the entire process from full sheets of paper to tiny shredded bits. Mobile shredding trucks are totally self-contained and can operate without any outside power source. They shred in an hour what it would take you a month with a normal office shredder.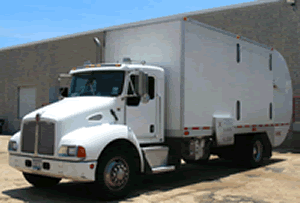 If you prefer to watch your documents being shred then "on-site" or "mobile" shredding solutions are for you. Mobile shredding trucks shred paper to a particle size that is smaller than the average cross-cut shredder. It also tears the paper instead of just cutting it to make it impossible for computers to re-assemble. In less than 15 minutes, the trucks can typically perform most office shredding purges.
If your Pittsburgh business requires regular monthly service, shredding professionals transfer your secure documents from locked bins and shred them in mobile shredding trucks. The bins are provided at no charge and you keep them as long as you have at least monthly service. The trucks shred 6,000 pounds an hour so most jobs only take a few minutes.
How Mobile Shredding Works in Pittsburgh
STEP 1: Materials are collected in 64 gallon containers.
STEP 2: Materials are shredded into a sealed compartment in the back of the truck. You can watch the entire process.
STEP 3: A Certificate of Destruction is provided based on how much is shredded.
STEP 4: Shredded paper is pulped down and recycled into new paper.
Get FREE Quotes on Mobile Shredding Services in Pittsburgh, PA
For more information on Pittsburgh Shredding Service, simply give us a call at (412) 532-4266, or fill out our form to the left for a free quote today!